"Wait a minute, Doc. Are you telling me you built a time machine…"
– Back To The Future 1985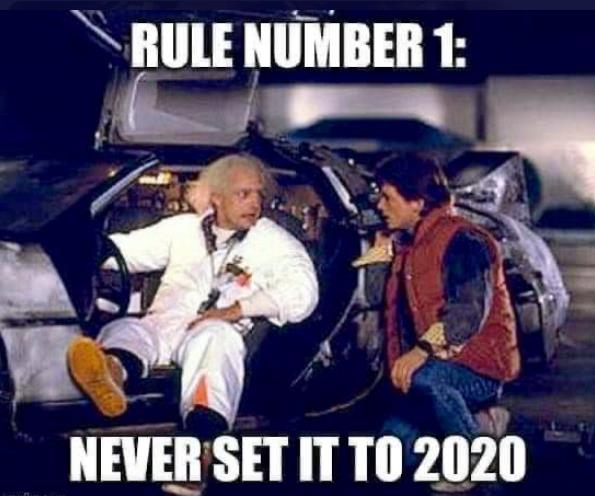 OVERVIEW:
For many 2020 has already been the longest year of our lives. Some have already compared this year to an evil cocktail of the worst parts of 1918, 1932 and 1968 combining the horrible mortality and economic impacts of the Spanish Flu and the Great Depression with the social and political upheaval of the most tumultuous year of the late 1960s.
The last six weeks have exposed an underbelly of our society long ignored with an escalation of riots in over 75 cities in the United States in response to several high-profile murders of black Americans. The ultimate tipping point may have been the appalling murder of George Floyd by Minneapolis police officers on May 25th. The outrage is palpable and not surprising and, as in 1968, the social, economic and political divides and highly polarizing Presidential election could signal a challenging turning point for our country.
Exacerbating this turmoil is the global pandemic that has already taken the lives of over 130,000 Americans and is disproportionately impacting African Americans and lower-income communities thus increasing these inequalities. As lockdowns were deemed necessary from Covid-19 to prevent the overwhelming of our healthcare system, more than 40 million Americans were immediately left without jobs with a far greater impact on service positions that are skewed toward lower paying positions.
As the majority of the country started to emerge from lockdowns in the second half of May, new Coronavirus cases were broadly trending lower and optimism of the start of a solid economic recovery was high. Following the worst months perhaps in U.S. economic history in March and April, virtually all incremental gains from such a low month over month base comparison seemed to indicate the optimism of such a recovery was warranted. We would caution regarding the cognitive bias of anchoring whereby it is the human tendency to rely too heavily on one initial piece of information (the "anchor") creating a tendency to interpret subsequent data around that anchor when it still remains poor on an absolute basis.
Regardless of the level of economic improvement, our collective inability to follow CDC guidelines for social distancing and the wearing of masks has contributed to a resurgence of new outbreaks of Covid-19 that are now spreading through areas of the country that had been previously more contained. The chart below from the CDC shows that daily cases troughed around 21,000 new cases per day for the week of June 6th and have now reached over 52,000 daily cases as of the July 4th holiday and are expanding with 41 states now reporting rising case levels.

These renewed outbreaks have already caused some state and local governments to slow down and, in some cases, roll back many re-opening plans. While limiting social interaction may be necessary from a public health perspective, it will curtail economic activity and potentially set back the recovery. Even without official government intervention, there is the risk that a renewed outbreak could curb spending if households pull back from the economy or businesses close out of further fear of the virus and its impact. Though there is little appetite for further stay-at-home orders or imposed business closures, the resulting decline in economic activity might be substantial and impact the vector of the anticipated bounce back.
It needs to be noted that all the news is not bad as the mortality rate from the virus appears to be falling. In part this is due to a greater emphasis on protecting those most vulnerable in our population and the increase in infections among the young where mortality rates are far lower alongside the more widespread use of newer and better protocols in treating the illness. However, given the lag between cases and death, we would still expect these numbers to rise over the next few weeks.
There are many challenges in analyzing economic data released during a pandemic so it is critical to focus more upon near real-time information and aggressively de-emphasize lagging economic reports that are often obsolete as they are released. Additionally, to focus upon certain data points that merely reflect a shutdown or a re-opening tends to exaggerate the magnitude of change and provides little useful insight. In preparing this commentary, we will attempt to focus more on direction rather than precise economic data as the margin of error is so wide and the current relevancy so limited.
The most recent release of the monthly employment report for June is one such example. Though anxiously followed by economists, at the time of its release on July 2nd, we have already started estimating the additional damage to the labor market due to pullbacks and further shutdowns in many parts of the country as the Covid-19 virus has re-escalated. The date of the employment survey was June 12th which represented a near trough in realized virus cases. These are data points that will be made more clear in the July data but remain mostly hazy until data in the fall that is more likely to indicate the progress made.
The basic difficulty in extrapolating much of the economic data is that there are many businesses that cannot reopen in a way mandated by the CDC to assure customers and employees that they are not placing their health at risk yet still remain profitable and sustainable without the lifelines provided by the Federal government. These businesses are primarily found in the travel and hospitality, food services, retail and sports and entertainment industries where more than half of the job losses have emanated. The rolling wave of the virus creates great difficulty and risk in rehiring and furthers economic uncertainty that will likely continue to suppress housing and auto sales. This weakness will likely be joined by further layoffs in the energy sectors due to low global oil prices and continued declines in employment in the state and local government sectors that have been hit hard by declining tax revenues and inadequate federal support.
Despite the economic decline in the second quarter likely coming in as the worst in the history of the United States, the stock market and many economists are clearly looking past this dark period and focusing on the recovery and the optimism that a vaccine discovery may be coming as early as the latter part of the year or in early 2021. With Federal Reserve Chairman Jay Powell pledging to continue to pump liquidity into the system and a strong willingness for the administration to continue to provide additional fiscal stimulus, the market appears to be telling us that we are on the road to a durable recovery.
If we do get these additional rounds of stimulus, the total economic infusion is likely to approach $10 trillion for 2020, a number that may be four to five times the likely loss of gross domestic product and cushioning the worst part of the recession and possible aftershocks. Realized and proposed stimulus has overwhelmed economic fundamentals and levitated the valuation of the S&P 500 from an already historically elevated 18x earnings in March to over 23x in June, a level not seen since the 2000 tech mania.
The Great Depression was solvency-induced while the 2020 recession is a combination of an ill-advised trade war in the late stages of an elongated economic cycle and the forced global shutdown of economic activity precipitated by an overwhelming health care crisis. Despite aggressive fiscal and monetary efforts, what is in front of us is still likely to become a solvency crisis especially among smaller firms in the retail, leisure and hospitality sectors on which we have become very reliant in recent years. All of this will take place amid elevated unemployment.
Though our base case is for the deep decline we are experiencing in the just completed quarter to be followed by a solid economic rebound in the late stages of the current year, we expect more modest expansion into 2021 and beyond that may not return us to levels of output experienced last year until 2022. The risk around these forecasts is high and are not pre-ordained. Alternative scenarios may include an acceleration or a second wave of the virus that further impacts consumer confidence and economic activity in the latter half of this year and into 2021. An earlier than expected successful vaccine on the other hand may provide a more U-shaped recovery with the dramatic improvements we have experienced in the capital markets followed by a growing return to work, improved consumer confidence and a stronger recovery starting late this year. Economic uncertainty has rarely been higher.
At Coho Partners we prefer to invest in high quality companies with greater clarity around their business models, resilient earnings streams, anticipated growing cash flows, strong balance sheets, and reasonable levels of expectations and valuations. As we expect recent levels of volatility and uncertainty to remain with the financial markets, we feel this philosophy to be well suited to address the unique challenges facing our current environment.
The views, opinions and content presented are for informational purposes only. They are not intended to reflect a current or past recommendation; investment, legal, tax, or accounting advice of any kind; or a solicitation of an offer to buy or sell any securities or investment services. Nothing presented should be considered to be an offer to provide any Coho product or service in any jurisdiction that would be unlawful under the securities laws of that jurisdiction. Past performance is not indicative of future results.