Second Quarter 2019
"The biggest single thing that has lifted people out of poverty is free trade."
 -George Osborne
Before we try to escape the ultra-short-term noise and delve into the longer-term implications of the current trade and tariff war between the U.S. and China, let us address some basics including how we got to this point. Tariffs are a 'tax' on imported goods and are paid directly by U.S. importers of Chinese goods. The tariffs are paid to the U.S. Customs & Border Protection Service at the U.S. border by a U.S. broker representing a U.S. importer. They are not paid by the Chinese to the United States. Tariffs generally will increase the risk of higher inflation, lead to softer capital expenditures, slower productivity growth and lower employment growth mostly due to the uncertainty that would befall corporate America.
China has grown into a global power over the last four decades through hard work, smart infrastructure building and advanced education of its people. Following some smaller regional trade agreements in the 1980s, China sought to be included in the World Trade Organization (WTO) that regulates international trade between nations. China's admission in 2001 was in conflict with its prior economic strategy as China was now beholden to trading rules in an open system.
Though buying products from the U.S. and others, China ignored many WTO rulings, stole intellectual property, forced technology transfers from U.S. companies, and maintained high tariffs. China argued with the WTO that they were still a poor developing country and needed protection even as they became the world's leading manufacturer. As prices declined, the U.S. basically accommodated and facilitated China's ascent and benefitted from the relationship.
Eventually the goals of the two global superpowers conflicted as China, under President Xi, embarked on the "Made in China 2025" initiative with the goal of making their own companies global leaders in supercomputing, A.I., robotics, facial recognition and many other futuristic high tech industries that compete directly with America's leading technology companies. Major industrialized economies can no longer afford to allow China to compete on the uneven playing field that moved them from poverty and, on this point, there should be bipartisan and international support.
The charts on the following page from Credit Suisse highlight the chronology of the tariffs actually imposed and threatened with the commensurate estimate as a percentage of gross domestic product. The initial 25% tariffs on $50 billion of Chinese goods that went into effect last summer applied to only about 8% of imports from China and equated to less than 2% of total U.S. imports. Now with 25% tariffs on another $200 billion of goods from China in effect, the heat on U.S. firms reliant on goods from China has been turned up. Not only are import costs of Chinese goods poised to jump under the widening net of tariffs, but non-Chinese producers, whether American or other foreign companies, would then likely take the opportunity to raise prices.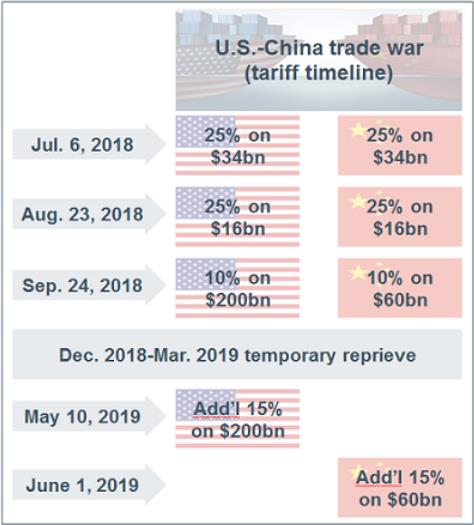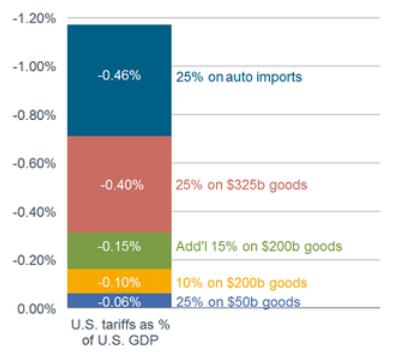 Although the United States and China are the key players in this game of tariffs, the impact has spread to the broader global economy not only via declining confidence, but also global trade volumes. As you can see in the chart below from Credit Suisse, although not (yet) in deep negative territory, there has been enough of a falloff in world trade volumes that we're looking at the weakest year-over-year reading since the Great Recession (as well as prior to that in the 2001 recession).

With world trade having slumped, the rebound in oil prices (up around 30% this year through the end of 2Q) and the very strong U.S. dollar are added headwinds to the hoped-for next leg of the economic expansion. Although the impact to-date of the trade war has not been substantial in terms of either economic growth or inflation, if it continues to heat up, the impact will be increasingly felt. Trade war risks intensified after U.S. and China trade talks broke down in early May. The longer the tariffs remain intact, the greater the negative consequences of slower growth, higher prices, disrupted supply chains, and heightened uncertainty, which would weigh on business and consumer confidence. Indeed, surveys of capex intentions for manufacturers have plunged by almost 50% from the highs reached in October of 2017 when optimism was at its peak courtesy of the expected corporate tax cut. According to the IMF, the current tariffs in addition to those envisioned could shave -0.3% from global growth in the short-term.
We continue to believe trade will be an important determinant of the length of runway between now and the next recession and largely because of this confidence transmission mechanism. The fiscal stimulus of last year helped boost animal spirits through the business confidence channels; along with hopes for a capex-led next leg to the economic expansion. Absent a comprehensive trade deal that would be adhered to, it's hard to imagine a scenario where those animal spirits are reignited, thus the anticipation of the G20 summit.
At the G20 summit in Japan, the U.S. and China agreed to resume trade talks and the U.S. agreed to hold off on additional trade sanctions on $300B more of Chinese imports that had been threatened. An even larger concession to China was the lifting of the ban on sales by U.S. companies to Huawei, a Chinese multinational technology company that is viewed as a threat to U.S. national security.
While the markets are enthusiastic about the just completed G20 Summit, we remain pretty much where we were in early May with a 25% tariff on $250B of imports. While certainly a positive to continue to have open discourse between the two nations, there remains major distrust between the U.S. and China and it is still hard to be optimistic that China will agree to the intellectual property protection desired by the U.S. or enforce it in the way we desire. Still, the resumption of talks and pressing the pause button on more tariffs will be seen in the short term as positive for markets and American businesses. Those have already complained about the cost of further tariffs saying that if they had gone ahead – American consumers would have ended up paying something like $12bn more in higher prices.
Chinese businesses have been suffering too as the trade war has hit investment plans, business confidence, and exports in the world's second largest economy. But pressing pause doesn't mean the trade war is over. Tariffs on hundreds of billions of dollars' worth of goods are still in place. And the two sides still have much to agree on.
Washington wants Beijing to fundamentally change the way China's economy has grown over the past four decades, getting rid of subsidies to state owned companies, open up the domestic market and most importantly, hold China to account if it fails to deliver on any of these commitments. This remains an uphill climb and will continue to weigh on global, and, thus, U.S. economic growth in 2019
The views, opinions, and content presented are for informational purposes only. They are not intended to reflect a current or past recommendation; investment, legal, tax, or accounting advice of any kind; or a solicitation of an offer to buy or sell any securities or investment services. Nothing presented should be considered to be an offer to provide any Coho product or service in any jurisdiction that would be unlawful under the securities laws of that jurisdiction. Past performance is no guarantee of future results. There can be no assurance that the portfolio will be successful in limiting volatility.