Fourth Quarter 2017
"…cause when life looks like easy street, there is danger at your door."
– The Grateful Dead
A synchronized global economic rebound took hold in 2017, and increasing momentum into the end of the year lifted global GDP towards historical averages of a 3.5% rate of growth. Though the U.S. has now enjoyed two consecutive quarters of growth more than 3%, full year output in other developed markets has been even stronger and global trade and industrial production have continued to accelerate. Strength in both developed and emerging international markets have reduced the reliance in the U.S. on domestic consumption, and exports along with strong inventory builds have added to output in each of the first three quarters of the year.
We noted in our commentary entering 2017 that following years of hibernation, the U.S. economy should benefit strongly from the staunchly pro-business policies of a Trump administration. The enthusiasm focused on the campaign agenda's features of deregulation, corporate and individual tax reform, and infrastructure spending. While little was enacted on the legislation front before December, the impacts from aggressive deregulation were present early on.
The wave of optimism that swept over corporate America was reflected in manufacturing, small business, homebuilder and even consumer sentiment indicators that soared to levels not seen in over a decade. This newfound confidence was primarily centered on the Trump administration's focus on rolling back regulations. While this may have had less to do with the bottom line, faith was instilled in business leaders that further regulation would not be coming. Though some on Main Street may not agree, there remained a clear viewpoint in the business community that years of increasing environmental and financial oversight by the prior administrations reduced business investment and job creation. Perhaps now, animal spirits could be unleashed.
Though many economists claim there is little empirical evidence that regulation curtails economic activity or that deregulation triggers it, most business leaders feel the costs of compliance diverts money and efforts that could and should be employed elsewhere. In fact, even before the passage of the major corporate tax cut into law, capital investment had grown at a 6.2% annualized rate (a/r), a welcome indicator after years of under investment. Into this backdrop of an economy entering 2018 with solid momentum, what might we now expect from the newly enacted 2017 Tax Cuts and Jobs Act? Lowering the statutory tax rate for corporations from 35% to 21% will engender immediate benefits from a permanent step-up in the level of corporate profits and will go a long way in making the U.S. an attractive destination for new businesses. Allowing the immediate expensing of capital spending should also lead to a much-needed increase in business investment. Additionally, the repatriation of overseas earnings should be beneficial to corporate shareholders. There is much to be optimistic about for the new year but how much will this benefit our economy over the longer term?
Though the primary benefits may accrue to Corporate America, individual taxpayers will enjoy gains as well, many of which are front-end loaded as 62% of benefits for individuals occur in the first four years. While we will discuss in the following pages the underlying fragility in the finances of the U.S. consumer (representing almost 70% of GDP), we do expect an early modest boost to consumer spending. Indeed, many economists at Wall Street firms revised up their growth forecasts for 2018, expecting the early boost in demand from increased consumption might spur more hiring. Some now see the unemployment rate dropping towards 3.5% by the end of the year from 4.1% as of December. But herein lies the rub.
In 2017 for example, employment increased by 2.05MM jobs but the civilian labor force only grew 861K, thus lowering the unemployment rate from 4.7% to 4.1%. The unemployment rate last fell below 3.5% in 1952. We are late in the economic cycle, a point in time when the available labor force is near exhaustion, and this is critical for growth.
Gross Domestic Product is the product of labor force increases and productivity gains. The chart below from the Wall Street Journal illustrates potential GDP output decomposed into labor force growth and growth of output per hour over the last 66 years according to research done by the Congressional Budget Office (CBO). Though productivity is always a wild card, the impact of demographics on the potential growth of the labor force is quite predictable and has decelerated from levels averaging over 1.6% annually from 1950-2001 to 0.5% currently. Over the next decade, the CBO projects labor force growth to remain around 0.5% per year.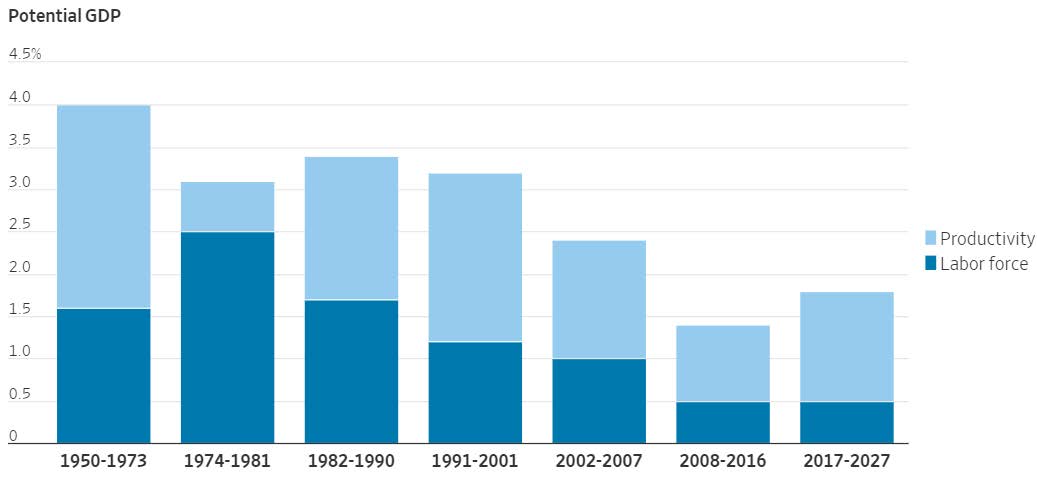 Though advancing technologies in the areas of artificial intelligence and robotics should boost the productivity side of the equation, the impact of a retiring baby-boom generation is clearly limiting labor force growth. Thus, while we feel the U.S. economy may be able to approach the recent 3% output trend in 2018, we feel it more likely to remain around 2.75% for the full year and likely to fall back towards a 2% long term trend in 2019.
The skepticism that does exist towards the Tax Cuts and Jobs Act is rooted in the concern of being very late in the economic cycle. Such fiscal stimulus is viewed as much more impactful early in an economic recovery when there is pent-up demand waiting to be unleashed. Monetary policy is historically much more of a powerful influence on the economic and market cycle as it influences liquidity. Therefore, aggregate demand is much more fully bolstered when such fiscal policy is working in tandem with monetary policy not in conflict as is most likely the case currently with the Federal Reserve continuing to raise interest rates.
The views, opinions, and content presented are for informational purposes only. They are not intended to reflect a current or past recommendation; investment, legal, tax, or accounting advice of any kind; or a solicitation of an offer to buy or sell any securities or investment services. Nothing presented should be considered to be an offer to provide any Coho product or service in any jurisdiction that would be unlawful under the securities laws of that jurisdiction. Past performance is no guarantee of future results. There can be no assurance that the portfolio will be successful in limiting volatility.